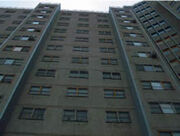 Vajana is major city in Molvanian Alps province of Molvania, along with Svetranj.
Vajana was founded in 720 A.D. by Molvanian matriarch, Besbolja, known as the "Mother of All Vajanans", since all 14 residents of Vajana at that period of time were here children.
In the 15th century, Vajana had earned the reputation as "Molvania's Cultural Melting Pot," since a giant melting pot once resided in the city, and was used by the Molvanians against ethnic minorities during the Balkan Inquisition.